Just $9.95 !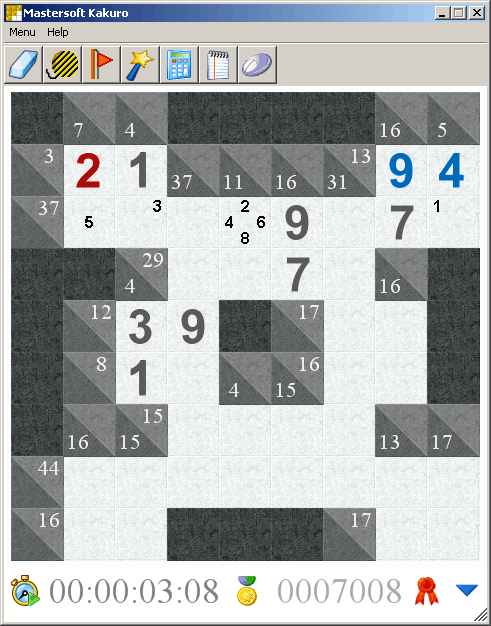 Need Something Harder ?
Kakuro is the latest craze to come from the land of the rising sun.
Infact it's a bigger hit in Japan than SuDoku !

Similar rules but much more addictive...
The following reviews are for our Mobile version however the Desktop version is exactly the same.
Mastersoft has done it again but this time the game name is Kakuro. Brace yourself! The addiction may hit you much harder than you may have been prepared for ... Rated 4.5 Stars (out of 5).

Aximsite (Read full review)
Solving a SuDoku or Kakuro is immensely rewarding after spending time debating your moves, improving your skills, and exercising your mind. The implementations by Mastersoft are clean, easy to use, and do the job.

Pocket PC Thoughts (Read full review)
As the Kakuro puzzles get more advanced, the Mastersoft tools supplied are extremely clever and really help. If you like logic puzzles, I recommend Mastersoft's ingenious implementation of this game.

Smartphone & Pocket PC Magazine (Read full review)
Sounds simple but it gets hard and this game is as addictive as Sudoku!

Softonic (Read full review)
Versions:
This is the Desktop version for Windows XP and Vista. Pocket PC and Windows Mobile versions also available.
Features:
Unlimited Kakuros
Many Unique Mastersoft Features including Ball of String and Combo Calc (invented by David Prinn).
Work your way up from Beginner to Kakuro Master !
A Quality Title Endorsed by the HP PC Choice Promotion.
Cool scoring system.
One Click Candidates with configurable Mouse buttons.
Skinnable
Unique number entry system.
Enter your working out.
Choose from a full pallette to color code your entries.
Various types of hint.
Six levels of difficulty including "Kakuro Master"
Unique gameplay with increasing difficulty.
Designed with the help of over 100 Kakuro Players. Plays the way you want it to !
Built in timer.
Lots of options such as turning sound off, hiding timer and score etc to aid concentration.
NB This product uses Microsoft's Latest Framework Technology. Please ensure you have the latest Framework installed (Download V1 HERE or else get the latest version via Windows Update at www.Microsoft.com).