"If you're serious about quitting smoking, My Last Cigarette is for you!"

Devin Henderson - PocketNow.com
Read review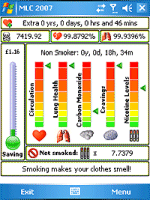 Quit smoking today with new My Last Cigarette 2007 and stay quit.
My Last Cigarette for Windows Mobile and Pocket PC is a proven aid to help you resist restarting this fatal habit.
It was chosen by World #1 OEM Hewlett Packard.
My Last Cigarette is a serious tool based upon years of medical research into the harmful effects of smoking.
How to use:
Simply enter your personal details and watch how your statistics are updated in real time, every second. Especially effective when used in conjunction with nicotine replacement therapy (eg patches).
Compatibility:
This version is suitable for any Square, Landscape or Portrait orientation screened PocketPC or Windows Mobile device. It is not suitable for Smartphone (please see the links to other versions).
Summary:
My Last Cigarette has helped 100s of users successfully resist restaring smoking. If you are serious about staying quit then My Last Cigarette could make all the difference.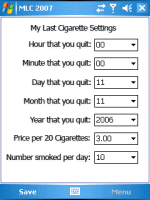 Features:

Nicotine level readout
Expected cravings readout
All calculations are based upon the latest medical knowledge and statistics.
Daily motivational quote or medical fact.
Deaths since you quit readout
Daily motivational message
Carbon Monoxide level of your blood
Increase in life expectancy readout
Time you have been a non smoker readout
Number of cigarettes NOT smoked readout
Your risk of a heart attack compared to your risk before
Your risk of lung cancer compared to your risk before
Money saved
Expected circulatory improvement
Expected lung function improvement
Readouts updated every second and are based upon your own personal past smoking habits.
Testimonials: (100% genuine) taken from a number of reseller sites


I have tried smoking numerous times and never stuck with it. I purchased this program and was really surprised at how having the ability to visualize your progress really helps keep you motivated to quit smoking. I have not had a cigarette in 90 days and actually have no desire at all to light up. I think this program is a great tool to help you quit.
It won't do all the hard work for you but it can give you a big helping hand when the craving starts. Just look at the graphs and imagine having to go back to square one. Havn't smoked a cigarette since 19th April 2002 after being a smoker for twenty years.
It really helped me personally to graphicaly see what was happening inside my body and all the other information has only helped strengthened my resolve. I haven't picked up a cigarette since I got it.
Didnt knew if it was the knowledge of my cc being billed for the app or what but i have no smoked since i bought it it helps a lot to see graphically how your health is. COOL!
This will have you quitting in no time. It's morbid, surreal, deadly serious, and those numbers just keep on updating. I'm sure glad I didn't have to write this thing ! Obviously done by smokers.
Amazing Help
I have smoked for most of my adult life and had tried to quit many times. This little app has really given me a leg up. Sitting there watching the statistics update second by second has given me something to distract me from the cravings. I am now over a month as a non-smoker. I have no intention of removing this program from my handheld for some time to come, every time I get a craving I pull it up and look at the money I have saved, the number of cigarettes I have not smoked and the estimated change to my life expectancy and the cravings go away. Thanks alot to the folks at Mastersoft Mobile for this help.
Excellent
I have started to appreciate my new life from My Last Cigarette. it is incredible! i have had great motivation and better morals! essential and effective! cheers!
40 years a Smoker until I found My Last Cigarette
I've tried various methods to stop smoking over the last 40 years. Started when I was 11 years old now 52. I now feel I can say I?m a non-smoker. It's all down to "My Last Cigarette" Every morning I turn on my PDA to have a look how many cigarettes I've not smoked. That sets me up for another day without one. If this government is serious about reducing the number of smokers it should by this software and give free on the National Health. In my Lifetime I've smoked 433590 cigarettes but more importantly I've not smoke 4043 since I stopped on July 27th this year. Do yourself a favour buy this software.
Brilliant aid to giving up once and for all
It really does help. I've been through patches, gum and all the other stuff and always started smoking again. I've been weed free for about 3 months now and I honestly think this program helped me to do that much better than the more expensive solutions. As well as it being a good program the developer is incredibly responsive and sorted out a problem I had in less than 10 minutes.
I have been a non-smoker for 59days, 3 hours and 19 minutes as I write this. I haven't smoked 591.3866 cigarettes and smoked 21900 cigarettes before I quit.....I know all this information at a couple of sylus clicks thanks to this program. Before using this, the longest I'd been was 2 weeks, then I'd meet up with other smokers etc and be back on smoking, but having a guide that shows the damage smoking has done and how it improves over time is fantastic. If you've tried other methods and they haven't worked, give this a go. It certainly worked for me
Your best chance to become smoke free!
Smoking is one of the hardest habits to quit. I purchased this program awhile back because I really needed something give me that extra little edge to quit. My Last Cigarette is a fantastic idea and an excellent tool to help you do just that! quit and quit for good. You might think the program is not worth it and expensive, but have you ever really wanted to know how much you damage your lugs and how much money you spend on this nasty habit? My Last Cigarette does just that and the author created it because he wants people to quit, not just make a profit. You drop so much money on cigarettes, why not spend some money on a program that can make your life more enjoyable. It?s absolutely a necessity as far; as I?m concerned. You will thank the author after you can wake up in the morning and not cough, open the window and smell the world."
Worked for me!
It won't do all the hard work for you but it can give you a big helping hand when the craving starts. Just look at the graphs and imagine having to go back to square one. Havn't smoked a cigarette since 19th April 2002 after being a smoker for twenty years.
Even better than the original.
This is a great tool in helping you quit smoking. They have added many grim features to help you quit. I haven't quit yet but it is helping me toward it. Yes, the price may seem high but cigarettes cost more. Wish me luck. If you are thinking of quitting, go for it.
This company creates fantastic software and I have installed the upgrade to smoking LE. Not only is it very interesting, educational it really wishes to help you quit!!! I'm going to do my best to quit. This is a must have PDA application if you really want to quit. 5 Stars.
This will have you quitting in no time. It's morbid, surreal, deadly serious, and those numbers just keep on updating. I'm sure glad I didn't have to write this thing ! Obviously done by smokers :0)))