Just $4.95!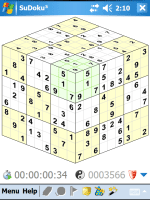 Are you ready to enter 3 dimensions ?
Three times the fun of standard SuDoku!

SuDoku with a twist! Complete the 3 SuDokus on the cube but ensure that the green 3 x 3 box is the same for each.
Sounds easy ?
SuDoku Cubed is the 3D version of our Multi - Award Winning SuDoku . SuDoku cubed has tens of billions of built in graded puzzles. That should keep you busy for awhile!
Reviews:
No reviews yet. It's new!

... (Read full review)
Awards:
Based upon our multi award winning standard SuDoku game.
Versions:
Windows Mobile touch screen / Pocket PC / Professional / Classic.
Features:
New 3D version of our award winning sudoku.
Many Unique Mastersoft Features.
Work your way up from Beginner to SuDoku Master !
Another Original Mastersoft Title.
Cool scoring system. Can you become a SuDoku Master ? Using hints will of course reduce your score and you'll need a certain number of points to reach the higher levels and unlock Picture SuDoku !
Tap n Hold One Click Candidates
Suggest a Technique
Find Triplets, Quads, X-Wings, Swordfish and Jellyfish !
Other Features:
VGA and QVGA compatible.
Unique number entry system.
Enter your working out.
Choose from a full pallette to color code your entries.
Various types of hint.
Unique gameplay with increasing difficulty.
Built in timer.
Lots of options such as turning sound off, hiding timer and score etc to aid concentration.
Watch out, it's addicitive!.
NB This product uses Version 1 SP 3 of Microsoft's Compact Framework Technology. This is included in the ROM of most devices. If you experience problems with 'MISSING COMPONENTS' then please install Version 1 SP3 from HERE.